Back to all posts
Posted on
Welcome Back to School 2023-2024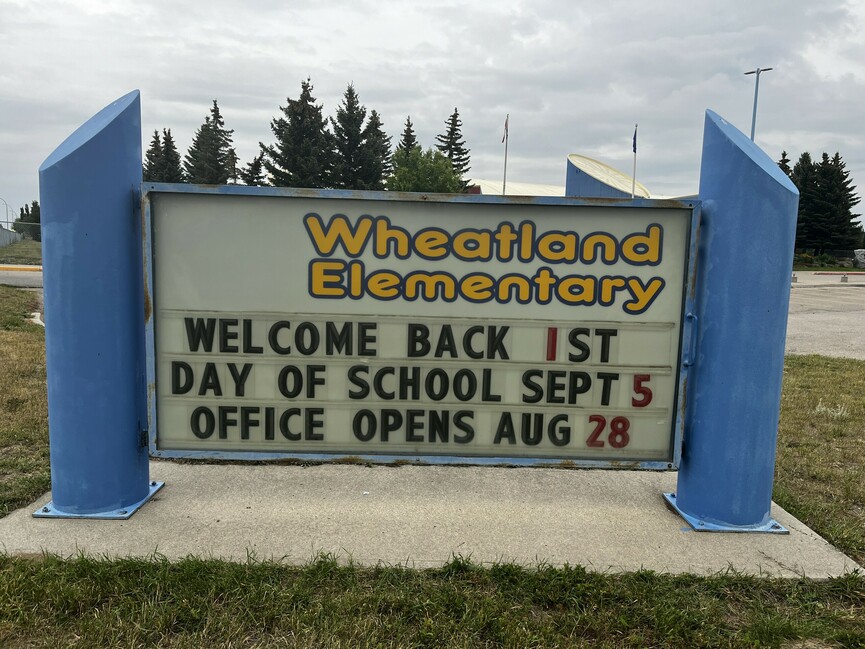 Hello Wheatland Elementary Families, 
As the first day of school approaches, we are beginning to feel the excitement as students and staff prepare to head back to school. Our goal, as always, is to keep our students and staff safe while also providing excellent education. 
1. First Day of School: We are pleased to let you know that all students from Grades 1-6 will begin school on September 5th, 2023 for a full day of classes. PreK and  Kindergarten students will receive information from their teachers as to when their staggered start will be. The school office will be open, beginning on August 28th, 2023.
2. Bell Times: Our bell times will remain the same. 
○ Morning Bell - 8:20 am 
○ End of Day Bell - 3:02pm 
3. Dropping Students Off: If you are walking your children to school or dropping them off, please do so after 8:05 am, as there is no supervision prior to this time.  Please see the image at the end of this letter that shows door assignments, as when the bell rings, students are to go line up at their designated door. Parents can say goodbye to their students at their assigned doors and are not to come into the school building. 
4. Picking Students Up: At the end of the day, we will be dismissing all students at 3:02pm. If you are picking up your child, please do so at their assigned door (or a designated outdoor meeting space of your choice). Parents are to remain outside of the school building at dismissal. Students will not be dismissed through the office/main entrance.
5.  Attendance:  Attendance at school is very important. A student should be at school every day unless there is a justifiable reason (illness, medical appointments, family emergencies). It is also important that they not be late. If a child is late, this can set the tone for his or her day by not having a smooth start.  Parents will be notified if lates and/or attendance becomes a problem.  IF YOU KNOW THAT YOUR CHILD WILL BE LATE OR ABSENT PLEASE CALL THE OFFICE (403) 934-3318 or email your child's teacher.
6. Students Riding the Bus: Parents should be hearing directly from the GHSD Transportation Dept and/or their bus driver regarding routes and bus stop times. If you have not registered for bussing, please go to  https://www.ghsd75.ca/departments/transportation/register-your-child-for-transportation for more information. Parents, please make sure your child knows who their Bus Driver is and what "Disney Character" they are prior to the first day. 
7. Parking for Pick Up and Drop Off: Parking is available in the parent parking lot as well as along Strathford Blvd. Please do not park in the Bus Loop or in the Staff Parking Lot.
8. Students who Arrive Late: On occasion, students arrive at school late. Parents will need to stay with their child and bring them to the main office door to sign them in.
9. Recesses & Lunch: Grade level groups of students will have designated areas for play. Playgrounds and school fields will be open for play for students during their recess and lunch blocks. Students are being asked to bring a healthy snack and lunch that they can eat independently, without adult assistance. All food needs to come ready to eat, as there is limited use of microwaves at school.
10. Parents Entering the School: Parents and other visitors may only enter through the front entrance/main office door.  Parents will not be allowed in classrooms, hallways or in locker areas without direct permission and prior approval by the School Administration. Please call the office or email the Administration and book an appointment with the School Administration.
11. Digital Device Policy: "Away for the Day"​​​​​​​
A digital device is any handheld device (cell phone, iPod, iWatch, gaming device, etc.) that has internet access, texting, music or gaming capabilities. It does not include personal laptops, ipads, and tablets brought to school for educational purposes.
Digital devices are not to be used or visible outside the classroom at any time during the school day (recess/lunch, etc).

All digital devices must be placed in student backpacks/lockers or a teacher designated area of the classroom upon entering the building.

Each teacher will direct digital device expectations within the classroom.

The school does not take any responsibility for the theft of any digital devices brought to the school.​​​​​​​

There may be certain learning situations and/or inclusive education purposes where the use of digital devices is deemed appropriate by staff. During these instances, the use of the device will be under staff supervision.
12.  Volunteer Requirements: All parent volunteers must have the following documentation turned into the school office.  New volunteer paperwork is not required each year.  The school office keeps copies on file for future reference.
13.  WES PAC (Wheatland Elementary Parent Advisory Council):  WES PAC is a great way for parents to get involved at Wheatland Elementary.  Please email wes.pac.president@gmail.com to find out how you can get involved or check them out on Facebook at Wheatland Elementary School Parent Advisory Council.
14.  School Fuel Breakfast Program:  Wheatland Elementary School is fortunate to have the School Fuel Breakfast Program, that provides muffins, cheese, yogurt and apples for students who require breakfast in the morning.  If you are interested in volunteering for this, please email Brandi Bobee (School Fuel Coordinator) schoolfuel@hope-community.ca or call (403) 934-2424 for more details. School Fuel still needs volunteers for Monday and Tuesday mornings before school this year.
15.  Supply Fee: All families are required to pay a $35 per student School Supply Fee. Please go to School Cash Online (https://goldenhills.schoolcashonline.com/) to pay this fee ASAP. Invoices will be going home with students in the first couple of weeks of school if families do not pay their School Supply Fee by the beginning of the school year. In addition to the $35 School Supply Fee, we ask that students bring indoor shoes, a backpack and lunch box. Teachers may also request that students bring a water bottle and headphones. 
16.  Clothing and Footwear:  All students are required to have a pair of indoor and outdoor shoes, with non-marking soles to be used and left at the school. PLEASE LABEL CLEARLY – all shoes, boots, book bags, jackets and all other items! Because our students are so young, it is very easy to take objects that are similar or identical. Each year we have a large quantity of items that are never claimed. Please check the lost and found if you are missing items.
17.  WES Before & After School Care:  If you are needing before or after school care for your student, please go to https://wesbeforeafterprogram.schoolsites.ca/ to register and for more information.
18. Communication:
We are excited to see our students and want to assure all of our Wheatland families that we will be doing everything we can to make the transition back to school one that is filled with excitement as well as safety.
Every child participated in "Sneak a Peak" in June 2023, where they met their teacher for the 2023-2024 school year.  Students who have just recently registered at Wheatland Elementary should be hearing from their teachers in the next couple of days. If you have not received communication from your child's teacher, please let the school office know by calling (403) 934-3318. 
We look forward to September 5th, 2023 when we get to connect with all of our students! If you have any questions or concerns, please feel free to contact the school (403-934-3318) or your child's new teacher via email. 
Sincerely, 
Mrs. Van Vliet - Principal
Mrs. Garrioch - Associate Principal
220 Brent Blvd., Strathmore, Alberta T1P 1K6 
Tel. 403-934-3318 ~ Fax 403-934-5558 
Teacher List 2023-2024
PreK:  Lisa Carless
M K/1:  Leanne Pinel
M 2/3:  Vicky Smith & Anna Wylie
KA:  Bonnie Wolf
1A:  Christine Michta
1/2B:  Hannah Henry
2A:  Melissa Matheson
3A:  Joy Muenchrath
4A:  Don Peterson
4B:  Jolene Stovka
5A: Devon Kirby
5B:  Heather Rederburg & Bobi Brown
6A:  Gillian Zandee & Mike Smith
6B:  Mike Smith & Blythe Hrymack
Green Zone:  Nancy Greene & Andy Miciak
Phys Ed: Susan Shearer & Bobi Brown
Associate Principal/LAC:  Emily Garrioch
Principal:  Amy Van Vliet